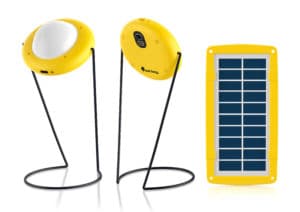 Adjustable Brightness
If you need powerfully bright illumination right away, you can set your Pro 400 to its Turbo Mode for five hours of bright, 400-lumen light. To conserve power and make the most of a single charge, its Normal Mode features twelve hours at 100 lumens, and its Low Power Mode for up to a hundred hours at 25 lumens.

Smart Mobile Charging
The Pro 400 features a universal, 5-volt USB port and is equipped with several phone adapters, so you can charge practically any type of mobile phone with solar power.

Extensive Battery Life
Even with daily use and charging, the Pro 400 battery typically lasts five years, a 50% improvement over previous Sun King lanterns.
What's In The Box?
While in use, digital LED meter displays remaining battery power
Displays the charging status of the lantern
Battery management technology auto-switches to low-power mode when battery is running dry, yielding 5 hours of additional light
3 different light modes for various needs
Rugged ABS and polycarbonate plastic. Keep away from water. In case of rain exposure, please dry the unit under sunlight
Get in contact with your local sales team
Contact Our Staff in
Zambia
Please fill in this information and a member of our staff will contact you shortly.
Get in contact
Buy our Products Online
Somewhere else in the world? Looking to buy in bulk? Fill in this form and we will be in touch.
Fill in form