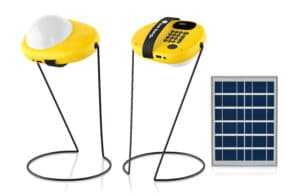 Smart Mobile Charging
The Boom features a universal, 5 volt USB port and is equipped with several phone adapters, so you can charge practically any type of mobile phone with solar power.

Media Playback and Storage
Listen to music your way: through built-in speakers or from the audio jack connecting your earphones. Either way, the Boom supports playback from both USB-connected devices and SD cards with up to 32GB of memory.

Adjustable Runtime
Make the most of a single sunny day of charging with adjustable configurations: the Boom's power-saving mode offers up to 36 hours of lighting or 9 hours of audio output.
What's In The Box?
2.7 W, 4.9V polycrystalline solar panel with an aluminium frame and a 5-meter cable
3000 mAh, Lithium Iron-Phosphate (LFP) battery
87.5MHz - 108 MHz frequency range with internal antenna, storage up to 10 channel with numeric key input
Powerful 3W in-built speaker and a aux-in 3.5mm earphone jack with volume adjustment up to level 18
MP3 files through USB, SD card/TF card slot for memory size up to 32GB
Digital LED Display Indicator
Radio/MP3 Player: Displays FM channel frequency band, soundtrack. Battery and Charging Indicator to help optimise solar panel placement
3 different light modes for various needs
Water Resistant, rugged ABS and polycarbonate plastic
Get in contact with your local sales team
Contact Our Staff in
Zambia
Please fill in this information and a member of our staff will contact you shortly.
Get in contact
Buy our Products Online
Somewhere else in the world? Looking to buy in bulk? Fill in this form and we will be in touch.
Fill in form